How Miroslav Became an Ambassador
15. 8. 2023
Miroslav Novotny, a paralympian and sledge hockey player for the Czech Paralympic Team, is a shining example of determination and courage as he overcomes the physical challenges posed by his disability. He serves as an inspiration to others, as his achievements on the ice not only motivate people with disabilities to pursue their passions and not give up in the face of life's obstacles but also resonate with the wider public.
Our products have gained his favor based on recommendations, and we have mutually agreed to a friendly collaboration. Miroslav has tried several of our products and is extremely satisfied with all of them. As a result, we decided to have a brief chat with Miroslav to find out which products he prefers and why.
Hello Miro! For those who may not know you well, could you please introduce yourself briefly?
Hi, my name is Miroslav Novotný, and I underwent the amputation of both my lower limbs after an accident involving a train. Since 2006, I have been primarily reliant on a wheelchair, but in the last six months, I've started walking with two prosthetic limbs. My behind is getting quite a workout from all sides (laughs). That's why I'm delighted to have the opportunity to collaborate with you. Thanks to your products, I feel like I'm sitting on a cloud (laughs) both in sports and during my everyday activities.
And how did the connection between you and Libella come about?
My connection with you was established through the recommendation of my friend, Miroslav Hrbek, a long-time representative of Czech Republic in para ice hockey. He showed me his - your - seat cushion, and that was it...
So, you tried it out and came directly to us?
Absolutely (laughs). I wouldn't change it now.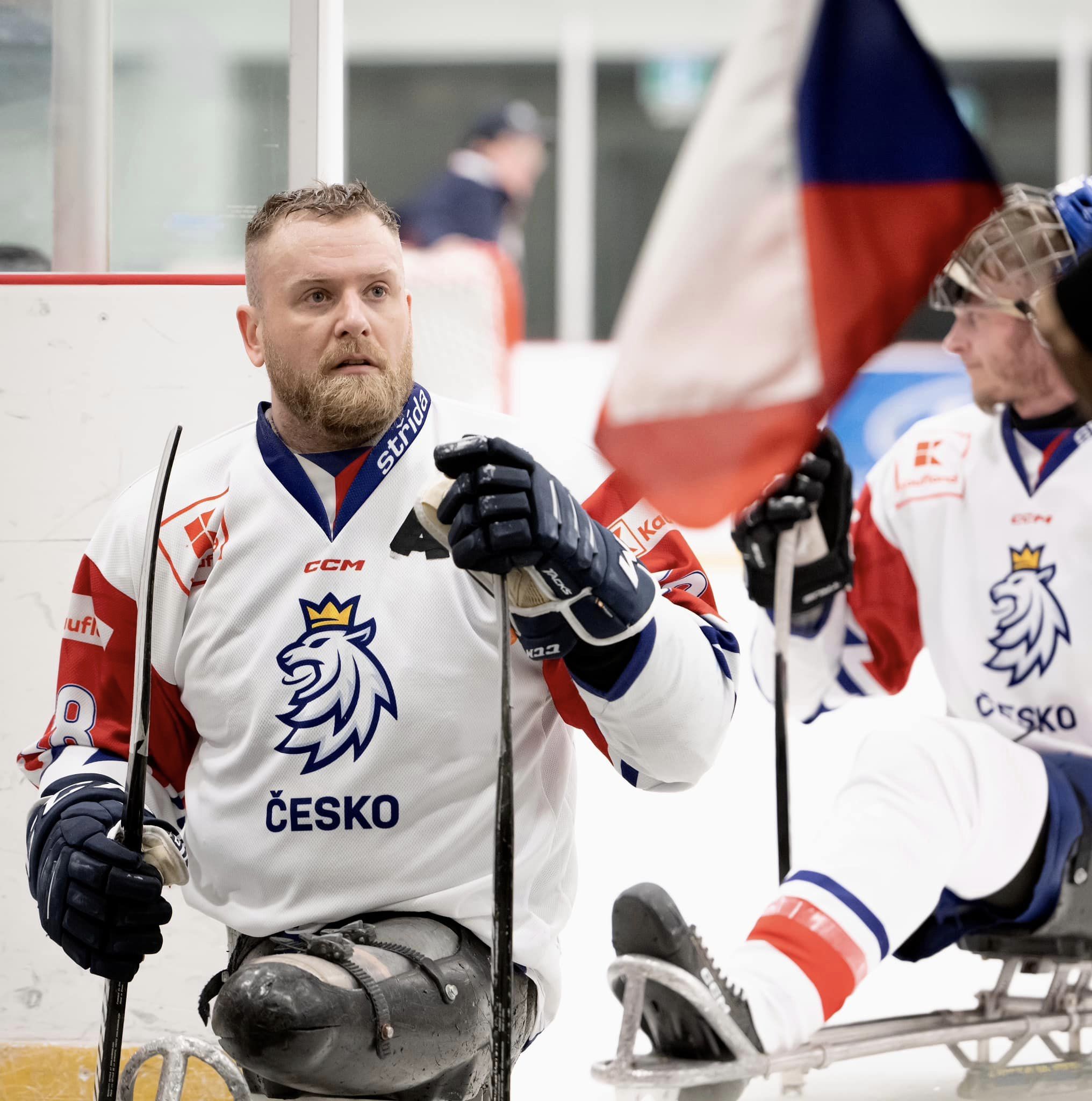 Miroslav Novotný (photo credit: Czech Para Ice Hockey)
"Before my accident, I primarily played rugby. I love physical contact, and I'm not afraid to fight for a result. However, the biggest battle I faced was for my own health. After the train accident in Prague, I lost both of my lower limbs. Then, eight years ago, I watched the Paralympics in Sochi, and I told myself that I would give it a try too. I approached Prague's Sparta, and that's the club I still play for today. Gradually, I had the opportunity to get involved in the preparation of the national team. Otherwise, I was involved in the transportation business, driving a taxi around Prague, and I experienced many interesting moments. Some people didn't want to ride with me when they saw that I had no legs, while others had a lot of questions. Now, I'm fully dedicated to para ice hockey, and just like in rugby, what I enjoy the most on the ice is the direct contact, collisions, and fighting for that puck."
Which Libella product is your favorite?
My favorite is the Libella Seat Varia. Since I lack hip joints, I used to sit crooked for 15 years. Thanks to the diagnosis, ergotherapist Verča managed to assemble the seat in such a way that I no longer have any issues with the curvature, and I finally feel comfortable. I can endure longer trips and sit on my rear end for a longer time overall (laughs), which is probably the best thing that can happen for a wheelchair user. But I don't mean to say that the other seats are any worse. I also have the Mono and Active, and I am extremely satisfied. Just the fact that Libella Seat Varia is something you won't find anywhere else in the world and can help you so much is something perfect.
And one last question, a deeper one for contemplation. If you had the opportunity to develop any assistive device for people with disabilities, what would it be?
It's hard to say, as everyone needs something different. Nevertheless, for me, it would probably be new limbs or even a new spinal cord. Regarding the more traditional products, the most important thing for wheelchair users is the wheelchair's seating. Consequently, once you have a well-constructed wheelchair, you practically create the best products that can exist in the life of a person with a disability.
Thank you, Miroslav, for your time. It was great talking to you.
I also thank you very much, and I greet everyone who reads this article.